At a recent PBBC meeting in London, PBBC Chairman Nigel Rich welcomed the new Philippines Ambassador to London, His Excellency Evan P. Garcia.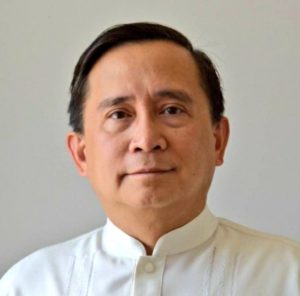 Ambassador Evan P. Garcia assumed his current position as Philippine Ambassador to the United Kingdom on 3 May 2016.
He is a senior member of the Philippine Foreign Service, having recently served as Undersecretary for Policy at the Department of Foreign Affairs in Manila. Prior to this, he was the Philippine Ambassador and Permanent Representative to the United Nations (UN) and other International Organizations in Geneva.
A career diplomat, Ambassador Garcia was previously assigned to the Philippine diplomatic missions in Tokyo and Washington DC. He is a recipient of the Philippines' Gawad Mabini awards, with the rank of Dakilang Kasugo (Commander) and then Dakilang Kamanong (Grand Cross) for his substantive contributions in promoting the interests of the Republic of the Philippines at home and abroad.
He has a License in International Relations and Political Science from the Graduate Institute of International and Development Studies in Geneva (the Graduate Institute Geneva) and a Bachelor of Science degree in Foreign Service, magna cum laude, from the University of the Philippines.
Born in Vietnam, Ambassador Garcia is married to Jocelyn Batoon-Garcia, a fellow Filipino diplomat, with whom he has one son.
At the PBBC meeting, Ambassador Evan Garcia (EG) thanked NR and other PBBC members and guests for the warm welcome. He commended NR and his team for their leadership and commitment to the PBBC over the years.
The new Philippine Ambassador who is now on his fourth diplomatic posting (he was previously assigned to Genera, Washington DC, and Tokyo) said that he was advised by his predecessors to work closely with PBBC members in promoting closer Philippine-British economic cooperation.
Ambassador Garcia gave a brief update on important developments in the Philippines since the last PBBC meeting, viz:
The Philippines has a new government led by President Rodrigo Duterte, a former mayor of Davao City in Mindanao.
The new administration has laid out a 10-point Socio-Economic Agenda that vows to continue and maintain the macroeconomic policies, including fiscal, monetary and trade policies of the previous administration.
President Duterte has also promised to push for changes to the 1987 Constitution to make it "more rational" and review foreign ownership limits in certain industries to make the Philippines more attractive to overseas investors.
The president has given his go-ahead to implement economic managers' plan to do 24/7 work on infrastructure projects, alongside a faster rollout of public-private partnership (PPP) projects. The new government is also prioritizing agriculture and development of rural areas poorest regions in the Philippines. The agenda of inclusivity will ensure expansion of more investments in Mindanao.
Socioeconomic Planning Secretary Ernesto Pernia said the new government is planning to convene the National Economic and Development Authority (NEDA) Board, composed of Cabinet members and chaired by the President, immediately after the President Duterte's first State of the Nation Address on July 25.
For developments in the UK, the Embassy had co-organized visits and speaking engagements of some PH government officials including:
o   Former Finance Secretary Cesar Purisima (for forum at Asia House),
o   Department of Agriculture (for Natural and Organic Products Europe exhibition)
o   DOT officials (for the opening of the Philippine tourism's 'Station Domination' project at London Waterloo Station)
o   PPP Center officials (for UK ASEAN Business Council and TheCityUK briefings)
o   Former Presidential Peace Adviser Teresita Deles