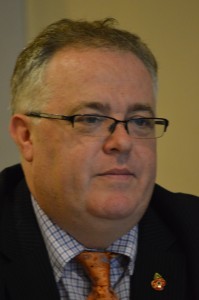 Eamonn Staunton was appointed as the PBBC's UK Chairman for the Energy Sector in November 2010. He has been helping UK companies expand international trade and investment and specialised in South East Asia since November 1996. Over this time he has built up vast knowledge and extensive business contacts across the Asia Pacific region but most significantly in the Philippines, Malaysia, Singapore, Brunei and Myanmar. He has also undertaken developed business ventures in Thailand, Vietnam, Hong Kong, China and India.
As a Senior British Diplomat in Manila between August 2000 and October 2004, Eamonn witnessed the birth of the natural gas industry in the Philippines when the upstream component of the $4.5 billion USD Malampaya gas-to-power project developed by Shell Philippines Exploration B.V. (SPEX) was formally inaugurated on October 16, 2001. Eamonn also helped a wide range of British Energy companies active in the project, big and small, actively looking to develop their business interests and investments there. This included key initiatives aimed at developing the power and energy sectors in the Philippines including a bilateral agreement to boost British involvement in South East Asia's burgeoning energy sector. The deal saw both countries joining forces to develop their power industries with particular focus on expanding sustainable energy technology and its applications. According to Eamonn "Energy is one of the most important sectors of the Philippines economy where engagement by British companies is already strong". The PBBC's continued support extends this framework for cooperation and cuts across the energy spectrum – oil and gas, transmission infrastructure, clean coal technology and renewables. 
Eamonn joined the Department of Trade and Industry in August 1980 and has worked in the private sector since November 2010. During Eamonn's time in the Civil Service he has held a significant number of senior appointments in London, Chicago, Manila and Kuala Lumpur with significant travel to SE Asia, North America and Europe. He is equally experienced and happy with working with SMEs or with Board Members and senior Executives of larger firms. 
Eamonn is married to Juniebell and they have two very young children. Despite this interests include travel (he organises annual PBBC Trade Delegations to the Philippines), reading  and current affairs. 
Photo by Peter Nottle at pnottle@yahoo.com