Philippine Airlines (PAL) is the national flag carrying airline of the Philippines and the oldest commercial airline in Asia, and Philippine Airlines has plenty to boast about. They offer a huge domestic network, serving 31 destinations in the Philippines, and also flies to 36 destinations across the Middle East, Oceania, North America, Europe, Southeast and East Asia.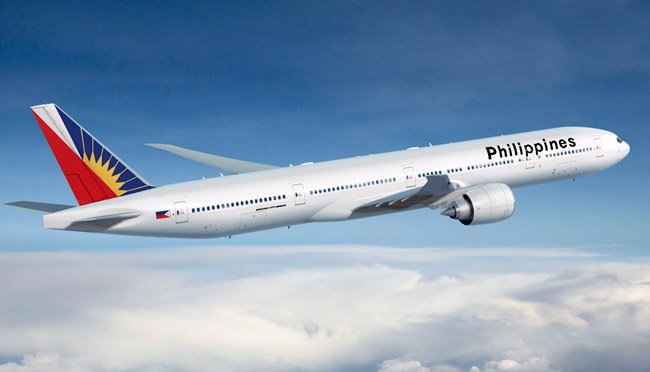 Philippine Airlines has daily flights to Manila from London (Heathrow terminal 3 ) using a Boeing 777-300ER aircraft since September 2017.
PAL have codeshare agreements with seven airlines, including Emirates and Etihad, and are currently the only flag carrying airline of a major Southest Asian economy that isn't a member of an international airline alliance. They have their own frequent flyer program, Mabuhay Miles, and a subsidiary airline called PAL Express. 
The airline has its main operating hub located at the Ninoy-Aquino International Airport while its headquarters are situated at the Philippine National Bank Financial Centre, Pasay City.  Some of the famous travel destinations that the airline covers are Los Angeles, Shanghai, Singapore, Sydney, Toronto, Vancouver, Hong Kong, Bangkok and many more. PAL is renowned for its on-time performance and customer service which makes it an airline to seriously consider for your flights to and within The Philippines.

Classes of Service
From the best of in-flight entertainment, comfortable seats to delicious cuisines, Philippine Airlines offers loads of amenities to passengers. The airline has two classes: Business Class and Economy Class.
Business Class (Mabuhay Class): For your relaxation, Philippine Airlines offers seats that can be converted into fully flat beds. Seats are also equipped with exciting features like ample legroom and headrest. Passengers can also enjoy an amazing collection of movies and music on their 15.4 inch seatback and 10.6 inch arm monitors. Business class passengers are offered complimentary snacks and beverages and get to choose from a diverse range of cuisines. Each monitor has a built in USB port for charging your mobile devices.
Economy Class (Fiesta Class): Get ready for luxurious seats, delicious meals and addictive entertainment in the Economy Class. Seats come with 9 inch seatback and arm monitors on whom you can enjoy the latest movies and music albums. Economy Class seats, with a pitch up to 34 inches, are also decorated with features like ample legroom and superior reclining. On flights with duration more than 45 minutes, passengers are treated with complimentary snacks and beverages.

Dining and Entertainment
When we are talking about Philippine Airlines, we are talking about loads of fun. These are some of the amenities that the airline offers to its passengers.
 Choose from a collection of Western, Filipino and Japanese dishes on your flight and also enjoy an exotic collection of alcoholic beverages.
Enjoy exciting collection of movies and music on your seatback as well as arm monitors. Those who like to read can also request newspapers and magazines.
Seats exclusively designed for your comfort, offering features like ample legroom, superior reclining, headrest and much more.
Check-In
Philippine Airlines offers four ways of check-in to the passengers: web check-in at www.philippineairlines.com, mobile check-in, airport kiosks and using the check-in desks at the airport. It's always recommended to check-in early to go past the security and baggage checks without any discomfort. Also handle your boarding pass with care as without it, you won't be able to board the flight.
Web Check-In & Mobile Check-In: Philippine Airlines offers the web check-in facility on its international flights. The procedure is designed to help you beat the long queues at the airport. All you need to have is an internet connection and a laptop and you can select your seat from the comfort of your home. Just print your boarding pass and you are done. This procedure not only amounts for faster check-in but also reduces the effort required. You can also check-in using your mobile phone, meaning irrespective of your location, you can check-in online at any time. Web check-in time ranges from 24 hours up to 2 hours before the flight's scheduled departure time.
Airport Kiosks: Another efficient way to check-in is to use the Airport Kiosks present at the airport. Use the interactive touch screen to search for your flight and select the seat from those available, once you are done, print the boarding pass.
Check-In Desks: Passengers can also check-in at the Philippine Airlines desk present at the airport. The staff are friendly and help you in everything related from baggage to security. Get your boarding pass at the desk and you are all ready for take-off.
Frequent Flyer Rewards Program
Philippine Airlines offers an exclusive frequent flyer program (Mabuhay Miles) to reward its customers for their loyalty towards the airline.
Mabuhay Miles: Join Mabuhay Miles which is Philippine Airline's frequent flyer program and get ready for a world of rewards. The program offers passengers membership to four different tiers depending on the number of miles they have travelled with the airline. Once a passenger travels 1000 miles/year with the airline, he is granted Base Membership, after traveling 25,000 miles/year, you get access to Elite Membership. After traveling 40,000 miles/year you get access to the Premier Elite Club, while after completing 1,000,000 miles, you join the Million Miles Program. Some of the benefits that members of the Premier Elite Club receive are free air tickets, priority check-in & boarding, extra luggage allowance, access to premier lounges, priority reservation waitlist and much more.