On 14th – 17th May 2015, the 4th Annual Sama-Sama games come to Boracay, uniting youths from polarized backgrounds to stand as equals through football, in the process supporting Football projects for Haian-Survivor children in Tacloban.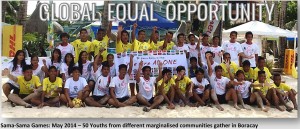 Organised by the English NGO FundLife International and supported by UNICEF, the three-day festival gives an opportunity to some of the Philippines' most financially deprived youth to visit and enjoy the island of Boracay. 160 youths will gather from all over the Philippines and the ASEAN region, including 30 from Typhoon Haiyan Survivors to battle it out for the Sam-Sama Cup and Barkada Shield, respectively.
The event supports grass roots football NGOs, with this year's proceeds goint to the 'Football for Life' project for Haiyan-Survivor children. Previous partners of the event include global names such as DHL, Puma, AirAsia, while the event's founding supporter is UK waste-to-fuel company, Gazasia Ltd.
To find out more about Football for Life click on link and read background below. If your organisation is interested to support FoundLife, please email FundLife Director, Marko Kasic on mk@fundlife.org
Keep up to date with all our latest updates by liking the Sama-Sama games Facebook Page.