At a recent meeting of the PBBC in London, two business delegation visits were reported.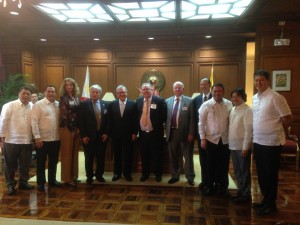 Delegation to London 17th – 19th June 2015
A delegation led by Philippines DTI secretary Gregory Domingo will visit London. Details are still being worked on by the Philippines Embassy in London.
Delegation to Manila 10th – 13th November 2015
A delegation led by the PBBC will include the Chairman , Nigel Rich supported by Alistair Fulton, Eamonn Staunton and Martyn Skinner.
UK companies can join this delegation. Any interested UK companies should contact Eamonn Staunton at staunton1964@hotmail.com.
Further details on both these delegations will be published as they become available.
Interested companies can also contact info@philippinebritish.com to register their interest or to ensue that they receive event details.