Visit the Asia BPM Summit 2016 in Manila and see and meet the people who have made Philippines the fastest growing country in Asia.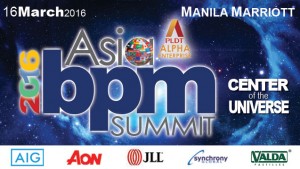 The sector known as Business Process Management (BPM) is providing tens of thousands of highly-skilled new jobs to Filipinos every month. It is driving growth clear across the country in virtually every economic sector from consumer goods, construction and hospitality to healthcare, NGO and professional services, you name it!
Join Asia BPM Summit 2016 — Center of the Universe — and connect with the leaders behind the industry powering all of it. The event will be on
Wednesday, March 16
at the Manila Marriott Hotel
(beside Resorts World). REGISTER at this web location: asia-ceo.org/?event=asia-bpm-summit-2016 . The price of admission is Php5,000 and includes elegant lunch and snacks — Php5,500 if paid at the event.
Asia BPM Summit, presented by PLDT Alpha Enterprise, with Elite Sponsorship by AIG, Aon, JLL, syncHRony Global and Valda Pastilles brings together key sector leaders to discuss the future of the key sector that is responsible for virtually all employment growth in the nation.
Despite outrageous success, severe signs of overheating are everywhere. As you read this message, 60 multinational companies are in various stages of setting up completely new operations in the country – the highest number ever at one time.
How can the sector possibly keep up when it is already stretched to the limit due to mammoth growth plans of current locators AND a crisis in transport infrastructure that is attracting global attention? The addition of so many new locators at once will push the sector over the edge, is the prediction of many.
Will Philippines continue its rise? What can be done to prevent a fall? Join us for Asia BPM Summit 2016 and get the answers from the industry's leading figures.
Download the Event Program HERE > Event-Program-Asia-BPM-Summit-2016 Register at this web location: asia-ceo.org/?event=asia-bpm-summit-2016.
High-profile Presenters of Asia BPM Summit 2016 include (in approximate order of appearance):
Jonathan de Luzuriaga President Philippine Software Industry Association (PSIA)

PRESENTER: Jonathan is one of the nation's most recognizable leaders in the IT-BPO sectors and trustee of the powerful IBPAP industry association. He is also Head of Software Development for ADEC Innovations, one of the country's most global organizations.

Sunit Puri Head of Business Process Services (BPS), Asia Pacific Tata Consultancy Services (TCS)

PRESENTER: Based in Singapore, Sunit has 20 years of experience overseeing large transformation projects. He oversees BPO services across 12 countries for India's largest BPO provider and one of the largest in the world.

Erik Neilsen President Global Process Manager (BPO division of the Magsaysay Group).

PRESENTER: Erik was one of the first to set up shared services operations for Maersk, the huge global logistics company. He is currently doing the same for Magsaysay, one of the world's largest suppliers of skilled manpower for the global shipping and cruise industries.

Mark Lwin Chief Executive Officer AIG Philippines

PRESENTER: Mark oversaw shared service operations for AIG in both Philippines and Malaysia

Jason Ryan Regional Director, Southeast Asia ADP

PRESENTER: Jason has spent his entire career focused on providing human capital management solutions to many of the world's largest and most complex organizations.

Gary Tok Regional Director for Client Management Aon

PRESENTER: Gary explains how to use analytics to gain improved employee engagement and benefits while lower costs.

Eric Kaufman Country Manager IBEX Global

PRESENTER: With senior level experience across Asia, Eric is one of the most senior industry leaders in the region.

Jibin Arjunan Geographic Head – Asia Pacific and Japan Wipro BPS

PRESENTER: Jibin oversees Business Process Services (BPS) for Wipro in the Asia Pacific and Japan regions, and functions as the Country Head of Philippines where he is based. He previously spent many years based in Shanghai and overseeing the company operations in Greater China, Japan and Korea.

Gigi Mantaring General Manager Manulife Business Processing Services

PRESENTER: Gigi helped to build Manulife's shared services facility in Philippines from scratch into one of the most successful in the country.

Miguel Garcia President and CEO DTSI Group

PRESENTER: Miguel has played an important role in bringing the largest IT-BPO firms in the world to the Philippines. Under his leadership, DTSI Group has enabled more than 500,000 call center seats.

Darcy Lalonde Chairman and CEO syncHRony Global

PANELIST: Darcy is considered a Human Capital Management Thought Leader with over 30 years of experience in leadership of HCM and Outsourcing organisations.

Hans Montenegro Regional HR Partner Manulife Financial Asia

PANELIST: Based in Hong Kong, Hans has been a senior HR leader for many years. Prior to Manulife, he worked with premier operators such as Convergys, NorthgateArinso and The Nielsen Company.

Dr. Jay Galvez MD Owner and Medical Doctor Galvez Clinics

PANELIST: Dr Galvez is considered the country's foremost specialists in head and neck surgery and has a special focus on workplace care and management.

Lars Wittig Country Manager Regus Philippines

PANELIST: Lars is at the front line of the BPM boom in Philippines and sees companies first as they enter the country. He is known as a big booster of the industry in Philippines. Lars is also winner of the Expatriate Executive of the Year award at Asia CEO Awards.