IFEX Philippines 2017
19 – 21 May 2017
World Trade Centre, Manila
IFEX Philippines is the country's biggest international trade fair highlighting Asian ethnic food and ingredients.
It is the only business-to-business and export-oriented food show in the Philippines designed for local and international food companies to meet and transact with the world's top buyers.
 The International Food Exhibition (IFEX) Philippines is one of the biggest showcases of the Philippines' and Asia's ethnic and specialty food, tropical fruits, vegetables, seafood, beverages, bakery and confectionery products, meat and poultry, Halal-certified products, as well as natural, organic, and healthy food products.
IFEX provides the ideal and strategic haven for trade ventures. Host Philippines is just a few hours away from all Southeast Asian capital cities and is acknowledged as one of the fastest growing economies in the region. It boasts of its buoyant food industry driven by a vibrant food manufacturing sector, an aggressively expanding retail chain of supermarkets and hypermarkets, and a robust food service industry.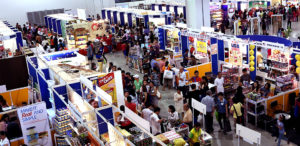 5 Reasons to visit IFEX
ELITE BUYER PROGRAMS ensure that you maximize business opportunities with IFEX Philippines exhibitors while having a delightful time at the trade fair.
EFFICIENT BUSINESS MATCHING assists you in selecting the manufacturers and exporters that are most compatible to your business needs.
A BIGGER, MORE EXCITING EXHIBITION brings you a diverse and unique showcase of Asia's ethnic and specialty foods, tropical fruits, vegetables, fresh seafood, natural, organic, and exotic food products.
THE INTERNATIONAL HALL offers you the tastes and flavours of Asian countries, and provides the best venue to meet their producers and exporters.
TOP-QUALITY FOOD PRODUCTS from the Philippines and the world—all with outstanding taste and quality—await you at IFEX Philippines!
Read this report for Exploring-Opportunities-in-the-Philippine-Food-Market
See all the facts and figures for IFEX 2017 at IFEX_2017_Omnibus
Visit the IFEX Philippines 2017 website