Agrilink 2017 Manila will take place on
5th to 7th October 2017
at the World Trade Centre, Manila
AGRILINK /FOODLINK/AQUALINK has established itself as the biggest internationally recognized and most participated agribusiness exhibition in the Philippines. Now in its 24th year, we would like to invite you once again to this biggest event in the country – that will take place October 5-7, 2017 at the World Trade Centre Metro Manila, Roxas Blvd., Pasay City, Philippines.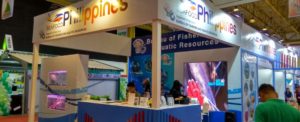 More than 500 indoor trades, retail booths, and outdoor booths will be available to showcase products, information, technologies, equipment, and services, plus live animals and plants.
24 seminar slots will be available for technical and product presentations. Special events such as cooking demonstration, product launching, raffle and fun games will be held daily.
There is also funding available through the Department for International Trade's 'Tradeshow Access Programme', which can provide up to £2,500 to help companies attend. Please contact one of UKABC's team at ASEAN Export Specialists for more information.
Agrilink
AgriLink is the agribusiness exhibition and seminars organized by the Foundation for Resource Linkage & Development, annually in October. From its first show in 1994, it is quickly bacame the Philippine's largest annual international agribusiness event
Foodlink
FoodLink is the annual exhibition for food products; processing and packaging industries where leading international equipment suppliers showcase their knowledge and technology to the local food industry. Products on exhibition include packaging equipment, processing technologies, refrigeration equipment and various foodstuffs. There is great demand in the Philippines for imported food processing and packaging inputs and machinery. Since 2000, foodLink has provided a broad platform for international food and equipment suppliers to promote their products and services and to penetrate the lucrative Philippine food industry.
Aqualink
AquaLink is also annual exhibition for fisheries sector. The first Aqualink was the name given to the National Fisheries Convention and Exhibition in 2004. It focused on DA-BFAR's four priority products – Milkfish, Tilapia, Shrimps, and Seaweeds.​ ​ Since then, Aqualink has continuously updated the industry on new products and technologies.