The Philippine British Business Council held a special general membership meeting to bid farewell to outgoing UK Trade & Investment director Derek Page, as well as to welcome incoming UKTI director Iain Mansfield.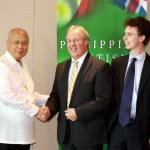 Ambassador Jesus Tambunting, Philippine British Business Council Co-Chairman, expressed his gratitude for the role UKTI and Mr. Page have played to further strengthen bilateral relations and improve trade between the two countries.
In his keynote speech, Mr. Page emphasized how the Philippines' friendly and open business environment made it easy for UKTI to perform its duties. Mentioning that the Philippines has been one of the most satisfying trade posts he has ever held, he added that the incoming director is "in good hands, [given] the excellent Filipino team in UKTI."
The new UKTI director has held various positions within the UK's Department for Business, Innovation and Skills. Prior to this new assignment, Mr. Mansfield served as the assistant director for competition policy at the department. He has wide-ranging policy experience in science, innovation, and trade, and holds a master's degree in physics from the University of Cambridge.
There will be a further change at the British Embassy in Manila when the new Ambassador Elect, Asif Ahmad takes up his position in the coming weeks.