The Philippine Embassy in London has just confirmed that His Excellency President Benigno S. Aquino III will be the keynote speaker at a PPP conference being held in Brussels.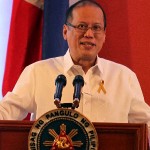 WHAT:              Conference on Public-Private Partnership Program for Infrastructure Projects in the 
                                Republic of the Philippines (ROP)
WHEN:             14.00 to 17.00hrs of Tuesday, 16 September 2014
WHERE:           Sofitel Brussels Europe, Place Jourdan 1, 1040 Brussels
H.E. President Benigno S. Aquino III will deliver the keynote speech at the conference, followed by presentations of key government officials that include Secretary Rogelio Singson of the Department of Public Works and Highways (DPWH) and Secretary Emilio Abaya of the Department of Transportation and Communication (DOTC).  A networking reception will follow.
the full conference Programme is here:
Updated.ROP PPP Infra Conference Programme Details.ao 26 August2014
Anyone interested should contact Ms. T. Borja at borja.pticbrussels@gmail.com to confirm your attendance on or before 09 September is it is appreciated that places may be limited.
Please see list of currently defined PPP infrastructure projects in The Philippines at:
ROP PPP Infra Projects Pipeline August 2014