Want to do business in the largest Asian English-speaking country in South East Asia? Then don't miss the chance to exploit the British Philippine Business Council's extensive business connections when they visit Manila and Subic Bay (optional) between 9-13 November 2015. We have put together a PAL flights and a hotel package (5 nights) for around £700 (economy return) or £1,500 (business return).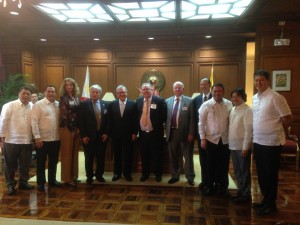 The Philippines with an estimated 103 million people is one of the largest markets in SE Asia and one of the largest English-speaking countries in the world. HSBC has forecasted that the Philippines could become the world's 16th largest economy by 2050. The Philippines is now ranked 59 in the World Economic Forum's Global Competitiveness Report. It has improved by 25 places in the last 3 years. The economy grew by 5.20% in the first quarter of 2015 over the same quarter of the previous year. GDP annual growth rate in Philippines averaged 5.08% from 2001 to 2015. The UK has excellent and historic trade relations with the Philippines and the UK has also been the largest foreign investor over the last ten years with combined investments close to £10 billion.
 The Philippine British Business Council (PBBC) exists both to create and to add value to the trade, investment and business links between Britain and the Philippines. We do not duplicate the work of existing trade and investment promotion and institutions, but will add a new level of creativity and initiative based on the business acumen, experience and contacts of its members. The PBBC is business-led with its members drawn from senior decision-making levels of companies taking part. It promotes trade between The Philippines and Britain and includes Philippine British co-chairmen in ICT, Agribusiness, Power/Energy, Retail and Tourism sectors although the PBBC Business Delegation in November offers all UK firms the chance to engage with this important and strategic market for the UK. The PBBC will celebrate its 20th Anniversary whilst in the Philippines in November. 
 The PBBC Business Delegation offers UK companies (exporters or potential investors) the chance to gain exposure in the market, research further opportunities and of course enjoy key introductions to senior business contacts utilising our wide range of business and government networks. The programme will include several networking events, briefings at key Government departments and business introductions. There is also the opportunity to add additional meetings utilising the PBBC's contacts and services offered by the British Chamber of Commerce for the Philippines (BCCP). The Delegation will be led by PBBC's UK Chairman Nigel Rich CBE. UK firms will meet their own travel and hotel costs and might need to contribute some incidental costs to cover participations at Receptions etc.
 Further Information
Sign up or express interest by contacting Eamonn Staunton, PBBC Philippine Business Delegation Secretary on 0742 464 4268 or by e-mailing your details to Staunton1964@hotmail.com.