Iloilo Trade Mission
8 – 9- March 2018
Iloilo City, Philippines
The Philippines posts a steady economic growth and is even hailed as one of the fastest growing emerging economies in the world since President Rodrigo Duterte took office last year. In an effort to address Metro Manila's worsening traffic congestion brought by the lack of infrastructure spending for years and to achieve inclusive growth throughout the country, President Duterte's administration is pushing for decentralization to spur development in the countryside. Major cities like Clark in Northern Luzon, Davao and Cagayan de Oro in Mindanao, and Iloilo in the Visayas are economic hotspots for investment.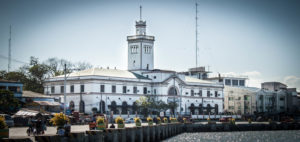 Following last year's successful trade mission in Davao, the British Chamber of Commerce Philippines (BCCP) is visiting Iloilo City this year to encourage more businesses expand operation in the Visayas region. The National Economic and Development Authority (NEDA) earlier forecasted that the average growth rate in the Visayas region will be higher than the government's targeted national GDP growth for 2017-2022. In addition, there's a growing interest of British companies in regional investment opportunities in the county.
With this in mind, the British Chamber is organizing the Iloilo Trade Mission on March 8-9, 2018 in Iloilo City. The Mission, held in celebration of the annual GREAT British Festival, will highlight a Trade & Investment Forum on March 8 at the Richmonde Hotel aimed to facilitate a dialogue between the government and private sectors and present business opportunities in Iloilo and the Visayas as a whole, and site visits on 9 March.
Listen to Chris Nelson's TV interview guesting today at ANC's Market Edge with Cathy Yang discussing the forthcoming Iloilo Trade Mission on March 8-9, 2018
The 2-day event will gather an estimated total of hundred participants, and include three main components:
1) Iloilo Trade and Investment Forum
● Innovation is GREAT: Showcasing Innovative Practices
● How to Protect Your Innovation in the Philippines?
● Investment Opportunities in Iloilo
● Developing Iloilo's Economic Viability
2) Site Visits around Iloilo
● Iloilo Business Park
● Iloilo Commercial Port Complex
● Southeast Asian Fisheries Development Center
● And other homegrown industries, TBA
3) Social Networking & Cocktails
Speakers



Daniel Pruce

Ambassador at British Embassy Manila




Benjamin Diokno

Secretary at Department of Budget and Management




Ramon Lopez, TBC

Secretary at Department of Trade and Industry




Juan Miguel Zubiri, TBC

Senator at Philippine Senate




Mike Moon

Trade Director at Department for International Trade




Chris Nelson

Chairman at British Chamber of Commerce Philippines




Tony Abad, Host & Moderator

Trade Lawyer at TradeAdvisors
Location
Richmonde Hotel Iloilo
Megaworld Boulevard corner Enterprise Road,
Iloilo Business Park,
Mandurriao,
Iloilo City, 5000 Iloilo,
Iloilo City,
Western Visayas,
Philippines